Leo Merrick- Owner and service technician.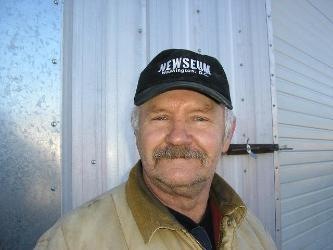 Leo's formal training came from his completion of ISU's Electronics Technology Program, but his informal training (years of hands-on problem solving) and natural ability really made him into the ace technician he is today. Some people say he's a straight-shooter, others say he's gruff; but everyone agrees that he is honest and speaks the truth. Leo's strengths are troubleshooting; working on major RV systems (AC & DC electrical systems, LP system, water system); repairing RV appliances; making his finished work look sharp; and figuring out the most appropriate repair for the age and condition of the unit. Our customers value the high-quality, dependable work that they get from Leo

Joni Merrick- Parts person and "Carport Queen".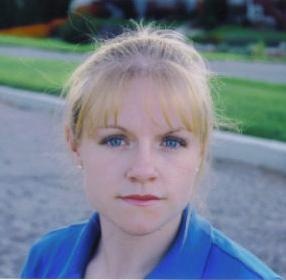 Joni finally finished part 1 of her education. She received two Bachelor of Business Administration degrees- one in Management and the other in Marketing. Joni has worked at Merrick RV for the past 10 years. If you have a question about an RV part, she is the person to ask. She is the person who reads all the RV parts catalogs and decides what to stock in the store. You won't find a person who knows more about RV parts and accessories than Joni. She is always happy to help you find the part you need.

Lucky (dog)- Door greeter and work supervisor.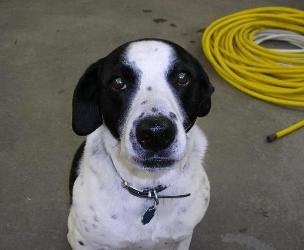 Never has he missed a day of work. Lucky is always around to make sure Leo stays on task. His new diet says "no treats allowed", but he will accept a pet on the head or a belly rub.

Nancy Merrick- Public relations and silent supporter.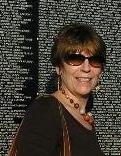 Nancy is making a slow transition from retired Blackfoot school teacher to active Merrick RV team member. Because her knowledge about RV parts is very limited, Nancy probably won't feel comfortable answering your RV questions, but she would love to know if your family is from around this area. She is genuinely interested in the people of Blackfoot and usually finds some connection with how she knows a customer. Not only has she been an active member of the Blackfoot community, she taught school (grades K-4th) for the Blackfoot School District for 36 years. If you are lucky enough to be at Merrick RV when Nancy is here, you will be warmly welcomed and appreciated.

Molly Merrick- Scooter rider and time keeper.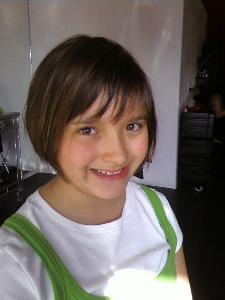 When Molly is at Merrick RV, she can usually be found riding on her Razor scooter or telling Joni what time it is (time to go). Molly hasn't found her spot here yet, but some day she will find an area that fits her interests. She has specifically stated that she has no interest in anything that deals with RV septic systems.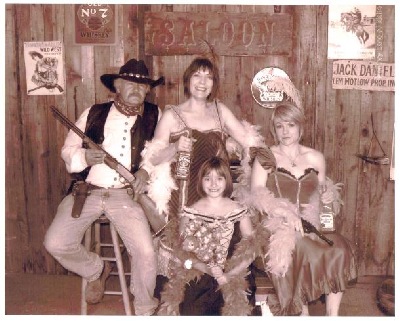 Here we are after a fun-filled day at the fair.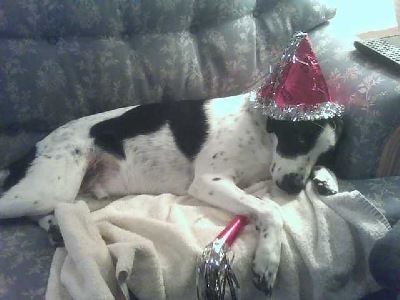 Lucky on New Years Eve.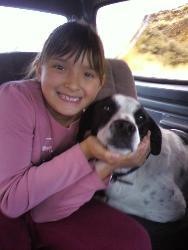 Molly and Lucky have to share the back seat when the crew goes on scenic car rides. Sometimes he gives her a little room, other times he tries to push her off the seat with his backside.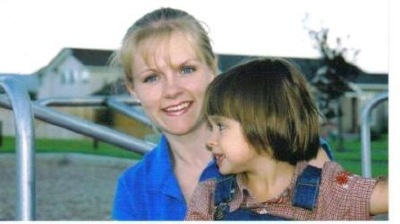 Joni and Molly